Rameau Sokoudjou dismantles Jamie Abdallah in brutal title fight
Oct 30,2017
NEW KLF&AFC light heavyweight champion Rameau Sokoudjou says he has no intention of offering Jamie Abdallah a rematch after Saturday night's brutal second-round stoppage.

Sokoudjou, soaking in the spoils of his second world championship belt, revealed post-fight he will look past Abdallah when he defends his KLF&AFC crown next year.

"Why would I fight him again?" quipped Sokoudjou, who improved his record to 19-18 with the TKO win.

"I have no reason to fight him again. Obviously I have the belt, so I have to defend it at some point in time."

When pressed about a rematch against Abdallah (now 7-2), Sokoudjou declared he would leave it in the hands of the matchmakers.

"I don't know. The AFC are the ones scheduling the fights," he said.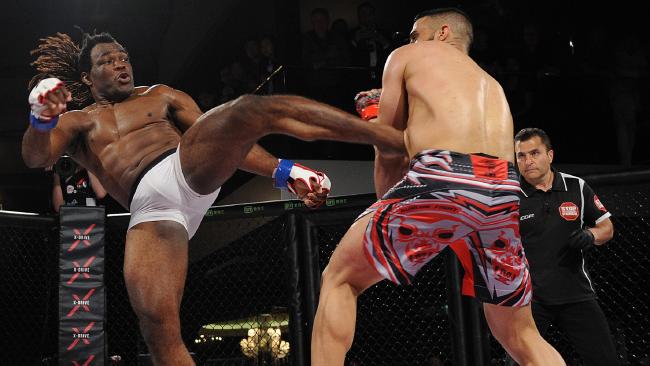 Sokoudjou fulfilled his promise of a "violent fight" in the co-promoted KLF-AFC main event, dislodging two of Abdallah's teeth with a devastating elbow.
Dubbed the "African Assassin", Sokoudjou withstood a barrage of punches and elbows from Abdallah for the best part of two rounds before capitalising on a mistake and finishing the fight.

"The strategy was to be on the outside, but he kept coming in," Sokoudjou said of Abdallah's aggression.

"That changed a lot of things. He forced the fight, so it was different.

"He was in control and he hit me, I'm not going to say he didn't, but he didn't hit me to a point where I lost control.

"The punches were hitting me but somehow I got out of there.

"I think I was just getting tired and I was just trying to think about 'what's next' because I had a game plan but he came right at me and that changed everything."

The pro-Abdallah crowed rocked the Melbourne Pavilion as the fan favourite appeared to have the Cameroon-born American-based Sokoudjou on the ropes on several occasions.

But just as Abdallah appeared poised to defend his title, Sokoudjou hit back, rocking the Melburnian with a right hand and sending him to the canvas.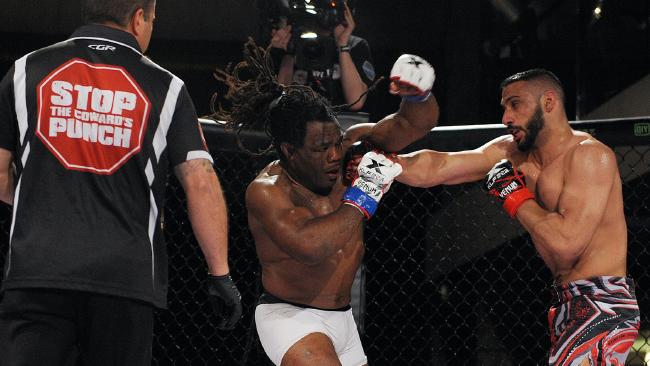 "I just made a mistake going forward," Abdallah lamented.
"That was it. I got his elbow. I was on the ground ... he hits hard."
Sporting a black eye and without two of his bottom teeth, Abdallah cut a shattered figure.
"I'm devastated," Abdallah added.
"I worked hard from the rehab to get myself right, I was feeling good and I made a mistake.
"You know what, we chose to fight someone with a lot of experience and a world name because I have faith in my ability.
"There's no point tip-toeing around claiming to be the best, I wanted to fight the best. I didn't get it done tonight."
Abdallah spent several months on the sidelines as he recovered from a serious shoulder injury.
But without fear, especially after watching Sokoudjou violently dismantle Brazil's Marcelo Tenorio in China in April, Abdallah stepped back into the cage determined to defend his title.
And now he wants to win that belt back, despite resistance from Sokoudjou.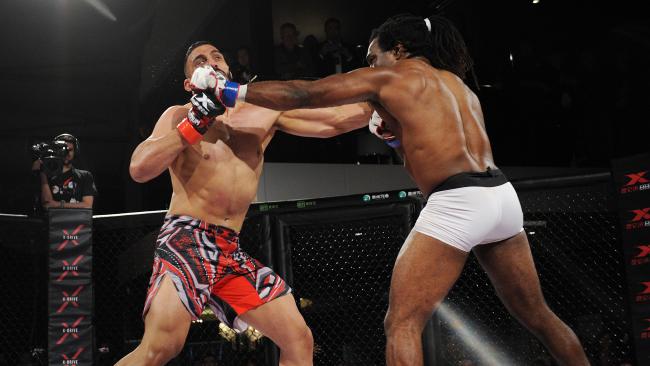 "I've got to sit down with my team and assess what's going on," Abdallah said.
"We'll see what's next."
Having won the KSW light heavyweight title, Sokoudjou has added another strap to his decorated career at the top level.
But he refused to get caught up in the hype of his historic win.
"For now, I'm going to go party and I'll figure it all out later," Sokoudjou said.
Link: http://www.heraldsun.com.au/sport/boxing-mma/rameau-sokoudjou-dismantles-jamie-abdallah-in-brutal-title-fight/news-story/7b4b0025b4f236371e644a776c60e8ba