The World Will Be Represented On Oct 28
Oct 22,2017

On 28 October, the Australian Fighting Championship and KLF Kunlun Fight will come together to co-promote a historic mixed martial arts event. There will be a number of Australian's representing on the card including Dane Beeby, Brock McRobb, Peter Davenport, Mikey Vaoutta, Rob Hill, reigning AFC Lightweight Champion Issac Hardman and of course the reigning AFC Light Heavyweight Champion Jamie Abdallah.
The card however will also showcase some of the best fighter from around the globe,as China, Japan, Spain, Brazil and the United States will also be represented.
UFC and PRIDE legend Rameau Sokoudjou will battle Jamie Abdallah for the AFC Light Heavyweight Champion. A recognised KO machine, Sokoudjou has guaranteed a "violent night" and has stated "I plan to beat the crap out of Jamie" so safe to say 'The African Assassin" is coming to Australia with bad intentions.
Zhang Lipeng is also a former UFC fighter and is currently widely regarded as China's best mixed martial artist. With almost half of his victories coming by way of stoppage, Zhang has won 15 of his last 16 fights and will be looking to make his mark as a future Welterweight contender in the AFC.
Another standout Chinese fighter, Zhang Meixuan will also compete on October 28 when he battles American Mario Moreno. Zhang has competed in Sanda for 10 years and has a very diverse striking arsenal making him an extremely difficult puzzle to solve.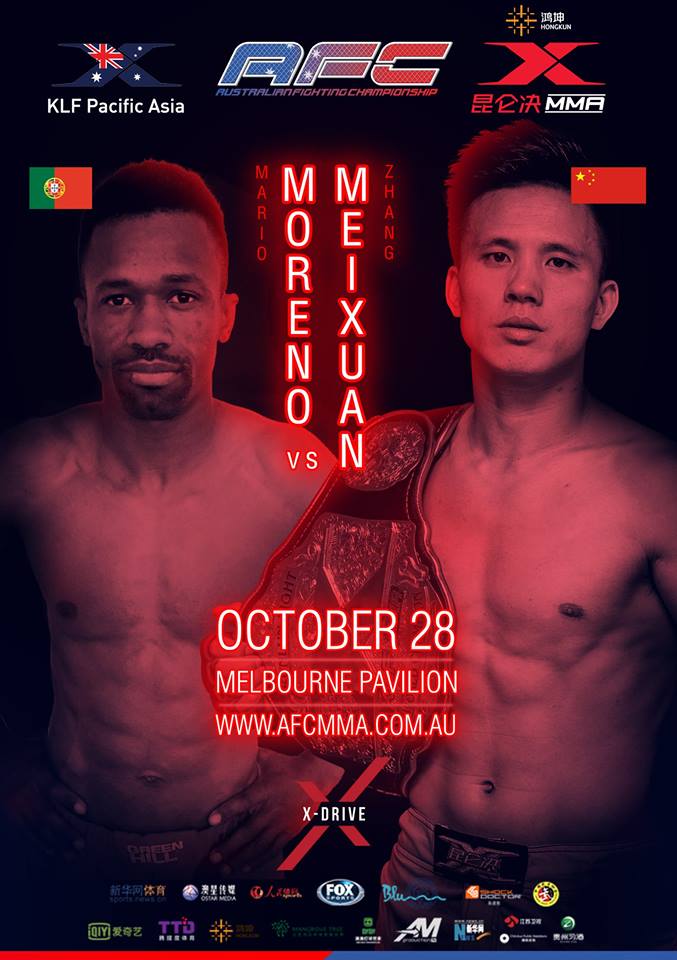 Another former UFC fighter, Cody Pfister, will also be looking to make his mark on the AFC and Kunlun Fight partnership when he battles China's Wu Haotian. Coming off a RNC victory over Charles Bennett, Cody will be looking to add another submission victory to his record on October 28. Not to be outdone, Wu is the KLF International Lightweight Champion and is confident he'll add a huge scalp to his own martial arts resume when these two battle it out in Melbourne.
Japan's Kazumasa Majima is currently 9-1 and as fought on some very reputable promotions including Shotto and Pancrase. Kazumasa has 7 submission victories via a range of chokes so don't be surprised if an 8th submission victory is just around the corner.
With a star studded card like, a genuine martial arts spectacle is guaranteed to watch the stream via AFC and Kunlun Fight App, download from https://itunes.apple.com/us/app/id1286584286?mt=8 .